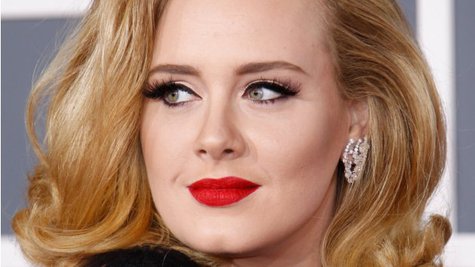 The Golden Globe Awards have no problem handing out trophies to superstar pop divas -- last year Madonna scooped the Best Original Song trophy at the show for her tune "Masterpiece." So on Sunday night, at this year's Globes, will Adele be able to pull off the same feat?
This year, Adele is nominated up for Best Original Song for co-writing "Skyfall," from the James Bond movie of the same name. The song reached the top 10 and the movie earned more than a billion dollars, so the smart money is on Adele to win. In addition, the new mom is making her first public appearance post-baby at the telecast, so all eyes will be on her anyway.
But wait: there's another superstar pop diva who could snatch the trophy away from Adele: Taylor Swift . She's up for Best Original Song for "Safe & Sound," the song she co-wrote for the movie The Hunger Games . While the song wasn't a big chart hit, the soundtrack reached #1 and the movie raked in the bucks at the box office. Plus, Taylor's always an award show favorite.
Meanwhile, a couple of guys are waiting in the wings to see if they could be the ones to take home the trophy.
Jon Bon Jovi is nominated for his song "Not Running Anymore," from the upcoming movie Stand Up Guys . Jon's advantage? He actually won this category once before, back in 1991, with "Blaze of Glory," the song he wrote for the movie Young Guns II. But that song was a huge hit; this one hasn't been heard by many people, since the movie isn't even out yet.
Keith Urban , who's about to make his debut as a judge on American Idol this coming week, is also nominated in this category for a song called "For You," from the movie Act of Valor. The song was a top 10 country hit, and the Golden Globes love Keith's wife, Nicole Kidman : in fact, she's nominated twice this year, for her role in the movie The Paperboy and for her part in the HBO movie Hemingway & Gellhorn.
The final nominated song in this category is "Suddenly," from the movie Les Miserables. Though performed by Hugh Jackman , it's the songwriters who are up for the award. It's worth noting that neither Adele, Taylor, Jon nor Keith would even have been nominated in the first place if they hadn't written or co-written their songs. The award in this category always goes to the songwriters, not the artist who sang it.
The Golden Globes air Sunday night at 8 p.m. ET on NBC.
Copyright 2013 ABC News Radio