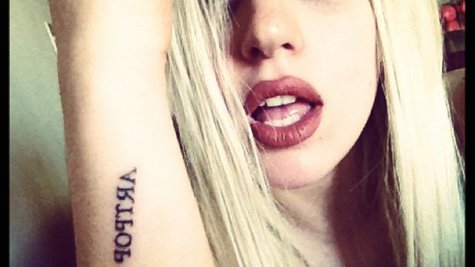 2013 will be the year that bring us new albums from some of the biggest names in pop music, and Entertainment Weekly 's new issue has helpfully rounded them all up into one handy list, called "12 Albums We Can't Wait to Hear."
Unfortunately, Justin Timberlake 's long-awaited new album isn't on the list, because nobody knew it existed until a few days ago. But his ex-girlfriend Britney Spears ' next project is on the list: EW says her eighth studio album, which will feature production from will.i.am , Hit-Boy , Dr. Luke , Max Martin and Rodney Jerkins , is due in the spring.
Also on the list is Lady Gaga 's ARTPOP , as well as new discs by Shakira and Eminem . ARTPOP will be out at some point this year, but Shakira's new English-language album, which reportedly includes contributions from Akon , LMFAO 's Redfoo , Sia and RedOne , has no release date. Since Shakira will be making her debut on The Voice this March, we could see the album sometime before that show wraps its fourth season. As for Em, he announced a new disc, but nobody has any idea when it'll be out.
Miley Cyrus ' new project, also on EW's list, is listed as coming out in either summer or fall, and is reportedly more "hip-hop and dance oriented," with production by Pharrell Williams and Hit-Boy. Mariah Carey 's next record, her 14th studio album, makes the list, but there's no release date on that, though Mariah's been working on it for quite some time.
Beyonce's next album, due out "spring/summer," according to EW , will feature production from Pharrell Williams, Timbaland and The-Dream , and Justin Timberlake is one of the guests. Drake 's next album makes the list with no release date, though the Toronto rapper's been working on the follow-up to Take Care in both L.A. and his home town.
The rest of the list includes the new album by country-pop crossovers The Band Perry , which is due April 2, and new discs from alt-rockers Vampire Weekend , The Black Keys and Arcade Fire .
Copyright 2013 ABC News Radio