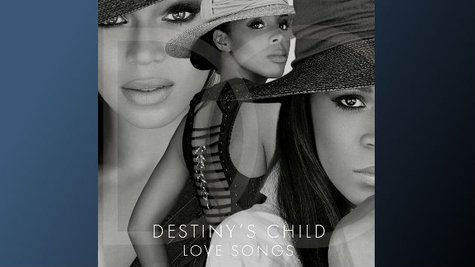 After eight long years, Destiny's Child fans finally have reason to rejoice: new music from the group is on the way. A compilation album, titled Love Songs , is set for release Tuesday, January 29, and includes the previously unreleased Destiny's Child track "Nuclear." It's unclear when the song was recorded, but it includes production from Pharrell Williams , who co-wrote the track with help from Michelle Williams .
Beyoncé's certainly happy about the upcoming release. She posted a note on her website , declaring, "I am so proud to announce the first original Destiny's Child music in eight years!"
Love Songs is centered around ballads and romantic songs recorded by Destiny's Child between 1997 and 2004. The track list features music from all four of the group's studio albums, including the group's 1998 self-titled debut, 1999's The Writing's on the Wall , 2001's Survivor and 2004's Destiny Fulfilled . Selections include "Cater 2 U," "Emotion" and "T-Shirt."
Along with the group's hits, Love Songs also features some special add-ons, including the Timbaland -produced remix of "Say My Name" and Kelly Rowland 's "Heaven," from her 2002 solo album, Simply Deep .
Love Songs is the second Destiny's Child compilation set released since the group separated to focus solely on their solo careers. Beyonce's father, Mathew Knowles , announced last year that two projects from Destiny's Child were on the way. In September 2012, Columbia/Legacy, along with Music World Entertainment -- the label led by Mathew -- released the first compilation disc Destiny's Child -- Playlist .
Check out the Love Songs track listing:
1. "Cater 2 U"
2. "Killing Time"
3. "Second Nature"
4. "Heaven"
5. "Now That She's Gone"
6. "Brown Eyes"
7. "If"
8. "Emotion"
9. "If You Leave," featuring Next
10. "T-Shirt"
11. "Temptation"
12. "Say My Name"
13. "Love"
14. "Nuclear"
Copyright 2013 ABC News Radio