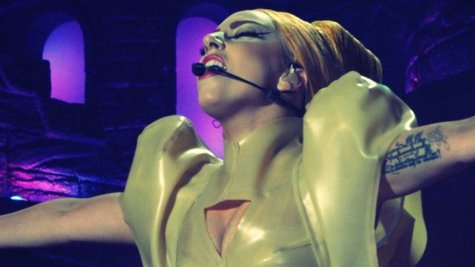 Lady Gaga fans know that the singer is a big fan of another superstar musician known for pushing musical boundaries and dressing in bizarre outfits: David Bowie . No wonder, then, that Gaga took to Twitter to express how happy she is that the legendary rocker has released his first new music in 10 years.
"laying in bed high listening to Bowies new song," Gaga tweeted , referring to the rocker's new track " Where Are We Now? "
Concerning the fact that many thought that Bowie, who turned 66 on Tuesday, had retired from the music industry, Gaga added, "A moment of bliss I never thought Id have again. Listening to new bowie for the first time."
The reactions of Gaga's followers to her tweet were split, with some wishing she'd say something about her own new music instead, while others shared her joy that Bowie had returned. One, however, combined the two, writing, "GOOD. Now tell us if you'll ever collaborate with him, PUHLEAZE."
The most recent sign of Gaga's devotion to Bowie came a few months ago with the release of the latest installment of her Web series, Monstervision. It was called "Oh! You Pretty Things," which is the title of the classic Bowie tune that plays throughout the video.
Copyright 2013 ABC News Radio