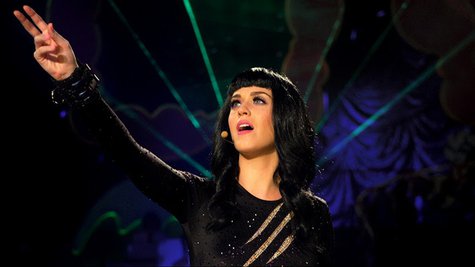 Katy Perry was the top music winner at the People's Choice Awards in Los Angeles on Wednesday night.
She received four awards in all: favorite female artist; favorite pop artist; favorite music video, for "Part of Me"; and favorite music fan following, in recognition of her "KatyCats."
During her acceptance speech for favorite pop artist, Katy said, "I so look forward to entertaining you again. So back to the studio I go."
The other major music winners in attendance were Taylor Swift , who was named favorite country artist; Adam Levine , who helped accept Maroon 5 's award for favorite band; and The Wanted , who received the trophy for favorite breakout artist.
The CBS telecast featured performances from Alicia Keys and Christina Aguilera , the latter of whom collected the "People's Voice" award.
Here are the winners in the music categories:
Favorite Male Artist
Jason Mraz
Favorite Female Artist
Katy Perry
Favorite Pop Artist
Katy Perry
Favorite Hip Hop Artist
Nicki Minaj
Favorite R&B Artist
Rihanna
Favorite Band
Maroon 5
Favorite Country Artist
Taylor Swift
Favorite Breakout Artist
The Wanted
Favorite Song
"What Makes You Beautiful," One Direction
Favorite Album
Up All Night , One Direction
Favorite Music Video
"Part of Me," Katy Perry
Favorite Music Fan Following
KatyCats, Katy Perry
People's Voice
Christina Aguilera
Copyright 2013 ABC News Radio