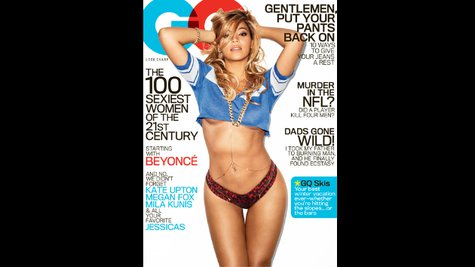 When you think of strong women in music, Beyonce certainly comes to mind. The superstar tells GQ magazine that her power is something she's worked hard to attain, and she has no intention of giving it up.
"I worked so hard during my childhood to meet this goal: By the time I was 30 years old, I could do what I want," she tells the new issue of GQ . "I've reached that. I feel very fortunate to be in that position."
She continues, "You know, when I was writing the Destiny's Child songs, it was a big thing to be that young and taking control. And the label at the time didn't know that we were going to be that successful, so they gave us all control. And I got used to it."
Now, the star says it's her "goal in life" to inspire other artists to take similar control over their careers. "It only makes sense. It's only fair," she says, adding, "I now know that, yes, I am powerful. I'm more powerful than my mind can even digest and understand."
In the GQ cover story, Beyonce also discusses her upcoming album, revealing that one of her collaborators is Justin Timberlake. In addition, she talks about her performance on the Super Bowl, saying that connects to the event because she approaches her concert performances "like an athlete."
She explains, "You know how they sit down and watch whoever they're going to play and study themselves? That's how I treat this. I watch my performances, and I wish I could just enjoy them, but I see the light that was late. I see, 'Oh God, that hair did not work.' Or 'I should never do that again.'"
"I try to perfect myself," Bey adds. "I want to grow, and I'm always eager for new information."
Copyright 2013 ABC News Radio