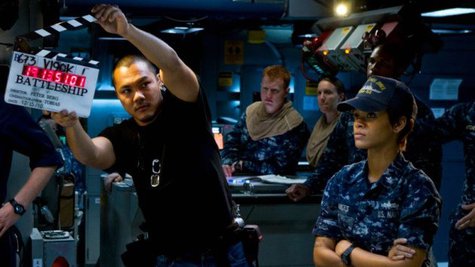 Poor Rihanna : her big-screen debut, Battleship , was a flop, and now she's earned -- if 'earned' is the right word -- a nomination from the Razzie Awards, which annually salutes the worst in film.
Rihanna is up for Worst Supporting Actress for her role as weapons specialist Cora Raikes in the big-budget sci-fi flick. Some of her competition includes her Battleship co-star Brooklyn Decker ; Jennifer Lopez for What to Expect When You're Expecting , and Jessica Biel for both Playing for Keeps and Total Recall.
Since the entire cast of Battleship is up for Worst Screen Ensemble, Rihanna has actually earned two nominations overall.
Battleship itself is up for Wost Picture, Worst Screenplay and Worst Direction. Hey, it was based on a board game...whaddaya want, high art?
At least Rihanna can console herself with the fact that another Grammy-winning diva is also up for a Razzie this year: Barbra Streisand , nominated for Worst Actress for her role in the comedy The Guilt Trip . Rihanna can also feel good about the fact that at least her music career is doing just fine: she's up for three Grammys this year.
The Razzie Awards will be handed out February 23, the day before the Academy Awards.
Copyright 2013 ABC News Radio