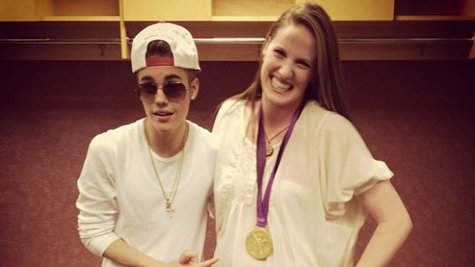 Five months after Olympic swimmer Missy Franklin declared herself a Belieber, she's finally gotten to meet the object of her affection. USA Today reports that when Justin Bieber's concert came through Denver on Monday night, Missy was able to arrange to meet the singer backstage...while wearing one of her gold medals, of course.
The four-time gold medalist documented the meeting in a photo posted on Instagram, adding the caption, " With the Biebs...He truly is a wonderful and genuine person! Such an honor to meet him!"
Over the summer, Justin sent a tweet to Missy after she scooped the gold in the 100-meter backstroke, writing, "heard @FranklinMissy is a fan of mine. now im a fan of hers too. CONGRATS on winning GOLD! #muchlove ." Missy retweeted Justin's message, and added , "I just died! Thankyou!"
Then last month, Missy told ESPN magazine that when Justin later sent her a care package of t-shirts, CDs and other goodies, she had to reject them, because the gifts could have compromised her status as an amateur, which she needs to retain to compete. "I've given up way too much and sacrificed too much to keep a Justin Bieber T-shirt and lose it all. So I sent it back," she explained.
Copyright 2013 ABC News Radio