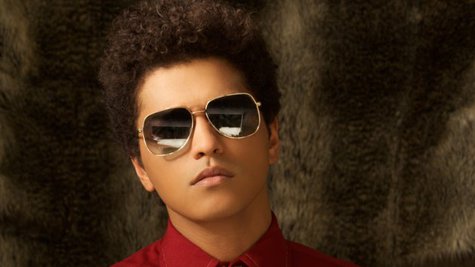 Many women dream of going on a date with Bruno Mars , but they might change their minds when they find out exactly what that involves.
"A Bruno Mars date starts with me on the floor, hot fudge all over my naked body" he tells the February issue of InStyle magazine. "Just to see. I like a girl who's open to anything."
Really, Bruno? Hot fudge? "I'm kidding!" he says. "I love to go to the movies or the beach and then dinner." OK, but one thing that definitely won't be on the menu, he says, is him crooning one of his love songs to you and you alone. Asked if he's ever serenaded a date, he says, "No, that's cornball. No girl wants that...I'd feel cheesy just singing, like, with a microphone ready to go."
The stylish singer also tells InStyle magazine why he changed his hairdo from his signature pompadour to a more natural curly look, especially since he's been wearing the pompadour since he was a little kid. "It was becoming to much," he explains. "I've seen everyone wearing it, so I retired it. Now I wake up, shower and leave my hair as it is."
However, he admits, "Curly hair is a pain. That's why I wear so many hats." Bruno also admits to a fondness for what he calls "pawnshop gold," as well as Hawaiian shirts. He says he gets teased for wearing them but points out that since he actually grew up in Hawaii, the islands have "influenced everything about me," including his style.
Copyright 2013 ABC News Radio