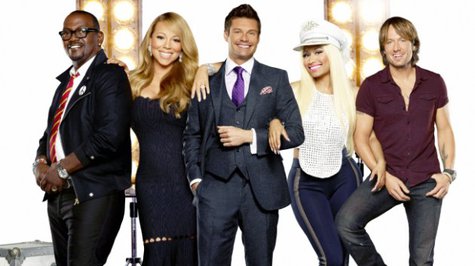 With all the reports of feuding and fighting on the set of American Idol , will viewers see something that looks more like an ultimate fighting match than a reality show when the new season of the show premieres? We'll find out Wednesday, when the first episode of season 12 premieres in movie theaters in 11 cities nationwide, followed by a live Q&A at 8:30 p.m. ET with all the judges and Ryan Seacrest on AmericanIdol.com and LiveStream.com.
"I think it was a good [decision] for us to do it like a big Hollywood premiere and get a chance to show it off," Ryan tells ABC News Radio. "You know, they do it all the time with movies. Why can't we do it for TV?"
Meanwhile, judges Mariah Carey and Nicki Minaj addressed their feud, speaking with reporters during a panel at the Television Critics Association press tour on Tuesday that also included the show's executive producers. While executive producer Nigel Lythgoe insisted that the feuds were "genuine," and not manufactured for press reasons, Mariah labeled them "a distraction."
"The fighting is what it is," Mariah told reporters "This is American Idol . It's bigger than all that. It's bigger than some stupid, you know, trumped up thing. I think that it's about the next huge talent, superstar that will come from this show." Calling the reports of her and Nicki's fight "convoluted," the exasperated diva said, "You know what it is? It's a distraction from the show and it's a distraction from the contestants and I think it's, like, unfair to them."
"We're professionals," added Nicki. "Have you ever had an argument with someone you worked with?"
"This is a very passionate panel," Mariah continued. "I think there are a lot of strong personalities and, starting this process, I felt like it was a possibility that there could be...differences of opinions. But one thing I think is great is that...it's such a diverse group of people."
In fact, American Idol executive producer Trish Kinane said that was exactly what they were going for when they cast the judges, because the audience demanded it.
"One of the things they told us that was that on the judging panel, they wanted people who were experts in their own right, they had talent and they had a right to be here and they also told us that they wanted honesty," Kinane told reporters. "We very much took that into consideration when we were talking to Mariah and Nicki and Keith [ Urban ] and Randy [ Jackson ], and I think we've got it. You know, they're not shrinking violets. They say what they think and we encourage that."
Meanwhile, one reporter attempted to force Nicki and Mariah to get along by asking each to say something nice about the other. "I say nice things about Mariah all the time," retorted Nicki, "and I even tell her all the time how much of a fan I am of her. She's one of my favorite artists of all times."
She added, "I think she's really shaped a generation of singers and to be on a panel with her...it's kind of crazy, because, all these singers that come in, they aspire to be a Mariah Carey in terms of their talent...and so I feel excited to see them see someone who they look up to so much, and to be given a chance to sing in front of her, and hear her critique."
Mariah said Nicki's comments were "a very sweet thing to say." As for her "nice thing" about Nicki, Mariah recalled working with the rapper early on in her career, on a remix of Mariah's song "Up Out My Face." She told reporters, "I did feel that she was going to go very far, and still have that feeling, and am grateful for anything nice that she or anyone were to say about me."
But leave it to Nicki to get the biggest laugh. When when reporter asked how Mariah and Nicki managed to bury the hatchet, Nicki said, "I put out my sex tape." As the flustered reporter replied, "You did what?" and everyone cracked up, Nicki repeated, "I put out my sex tape. I'm serious. You didn't see it?"
Copyright 2013 ABC News Radio