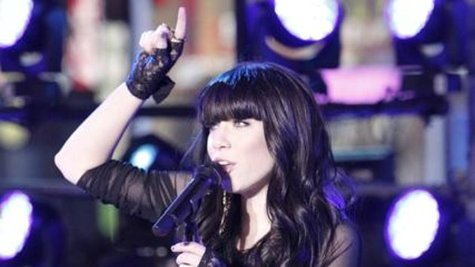 The last 12 months have been a real Cinderella story for Carly Rae Jepsen , so she's certainly not about to miss the ball that is the Grammy Awards. She's nominated in two categories, and she says she'll be there at the February 10 ceremony...with her entire family in tow.
Speaking to The Vancouver Sun , Carly says, "I'll be there for sure. My whole family's going to come down [from Canada] as well, which is exciting for me, just to share that moment with them and to celebrate as a team."
Carly notes that her family's larger than most, because she'll have four parents coming instead of two: her mom and stepdad, and her dad and stepmom. In addition, her brother and sister will attend the ceremony with her, where she's up for Song of the Year and Best Pop Solo Performance, both for "Call Me Maybe."
As for the rest of 2013, Carly says she's shooting a music video for her next single, and when she finishes up her current tour with Justin Bieber , she'll go to Japan to headline her first-ever solo tour, which she calls "REALLY exciting." Meanwhile, she continues to write new songs, which she describes as "a hint dancier."
Copyright 2013 ABC News Radio