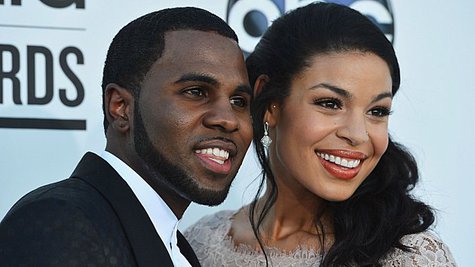 Jordin Sparks and her boyfriend Jason Derulo have been dating for more than a year, and marriage is a topic that's definitely come up...but it seems Jordin's a little more comfortable with the idea than Jason is.
Speaking to Sister 2 Sister magazine , Jordin says, "We have spoken about it, but it's not one of those things where we're like, 'We're going to do it right now. It's gotta happen right now.'" But, she adds, "I think women are always just more ready than a guy, so whenever he's good, I'll be right here. I'm good."
Jordin says the important thing is that she and Jason aren't "afraid" to bring up the topic of marriage. "Sometimes you bring something up to a guy and they're like 'Whoa, no, I'm not talking about all that!'" she laughs. "It's actually been really nice to be able to talk to someone about the future instead of just tomorrow!"
While she's waiting for Jason to put a ring on it, Jordin's expecting to release her third album this year. Meanwhile, her next movie, The Inevitable Defeat of Mister and Pete , is debuting at the Sundance Film Festival later this month.
Copyright 2013 ABC News Radio