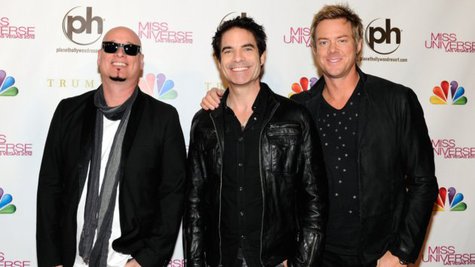 Many of Train's biggest hits are about love, but they also manage to be funny, with mentions of "Hefty bags," "soy lattes," "purple Scions," "untrimmed chests" and other random and unexpected phrases. And Train frontman Pat Monahan , who writes most of the band's lyrics, says that's because he's trying to create a variety of emotions with their music, just as a director does with a film.
"I think all albums are like movies," Pat tells ABC News Radio. "Some people like action flicks, and I never have. I've always loved romantic comedies. So, I've always thought Train albums are romantic comedies."
He explains, "You have to laugh and cry during one of those movies or it's just no good to you. And so I feel that way as an artist that I wanna be able to give people something to laugh about and something to think about -- and something to cry about."
That would explain songs like "50 Ways to Say Goodbye," a comic depiction of a guy whose ego is so bruised by a breakup that he'd rather tell people his ex died in a variety of horrible ways than admit he's been dumped. Or take another song on California 37 called "You Can Finally Meet My Mom;" it's literally about dying, but it features humorous lyrics like "Even Bieber ain't forever/We all got to go, you know."
In other Train news, this past Saturday night, Pat guest-starred on the TBS series Wedding Band , a comedy about a group of friends who play music at wedding receptions and other special occasions in their spare time.
Copyright 2013 ABC News Radio