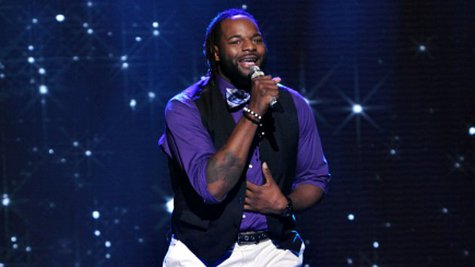 Remember Jermaine Jones , the tall, deep-voiced contestant who was kicked off of American Idol when it was discovered that he had had several outstanding warrants, and that he'd lied to police? Well, you might just see him again on TV, because he's trying out for The Voice .
Jermaine tweeted on Friday that he planned to audition for the NBC show in February, posting a picture of The Voice logo and adding, "My audition is next month I need all your support." The Hollywood Reporter reports that Jermaine, a New Jersey native, will try out for The Voice in New York City on February 16.
Jermaine won't be the only former disqualified Idol contestant to try his or her luck on The Voice. Frenchie Davis , who was booted off Idol in season two because she posed for an adult website, was a semi-finalist on The Voice 's first season.
Back in July, Jermaine pleaded guilty to giving a false name to police in New Jersey. He paid a fine. Since then, according to The Hollywood Reporter , he's filmed a movie and released a single on iTunes.
Copyright 2013 ABC News Radio