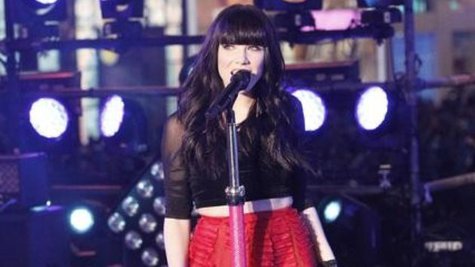 After some time off at home in Canada, and a New Year's Eve spent performing in New York City's Times Square, Carly Rae Jepsen is ready to get back to work. She'll return to the road with her buddy Justin Bieber this Saturday, kicking off a new round of dates on the Believe tour in Salt Lake City, Utah. The North American leg wraps in Miami at the end of this month, and then she and Justin will head to Japan and Europe for more shows.
Each night of the tour during her set, Carly is not only performing her smash "Call Me Maybe," but she's also highlighting songs from her debut album, Kiss , which she's extremely proud of. "It's really fun to play those songs live and, obviously, getting to tour with Justin is sort of a dream come true for me, as well," she tells ABC News Radio. "And it's cool to see the reaction [to] the songs."
But what about off stage? After all, the tour with Justin started at the end of September, so the two have already spent a lot of time together on the road. Do they hang out? What's been the highlight so far? Carly says there have been "so many amazing moments," but one does stand out for her.
"We had a day off together in Memphis for Halloween. So, we had some crazy little karaoke that happened in the local bars," she recalls, laughing. "It was fun to see [Justin's] background dancers jump on stage and add choreography to any sort of karaoke song that we would do. That was a highlight, for sure!"
Since Carly and Justin will be playing indoor venues, she probably won't have to make the same wardrobe choice she made on New Year's Eve, when the temperature was in the thirties. "Nobody knew I had long johns under my skirt...'til now," she tweeted the other day.
Copyright 2013 ABC News Radio