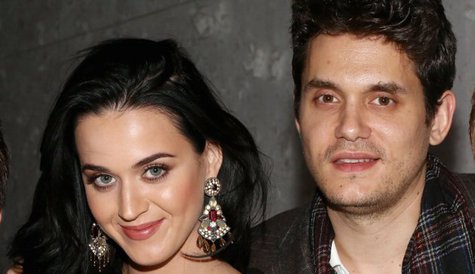 We all thought it was a crazy 2012 fling, but Katy Perry and John Mayer 's relationship has now officially lasted into the new year and seems to be going strong. A source tells People magazine that the two are "happy together," but don't believe reports that the two are headed down the aisle.
"Neither one is rushing into anything," says a friend of John's. "It's a real relationship just taking its course." However, John is "entirely focused on Katy," says the source. Case in point: a witness reports that during a dinner with a group of friends in Beverly Hills on December 27, John "had his arm wrapped around" Katy. "When John falls, he falls hard," a source tells People.
As for John's reputation as a ladykiller, People reports that those who are close to Katy can recognize his good qualities. "He's a nice guy!" a family friend of Katy's tells the magazine. Explaining the attraction, John's friend says the guitarist is "kind and quirky, emotional and deep, with a great sense of humor. Katy is similar in a lot of ways."
Copyright 2013 ABC News Radio