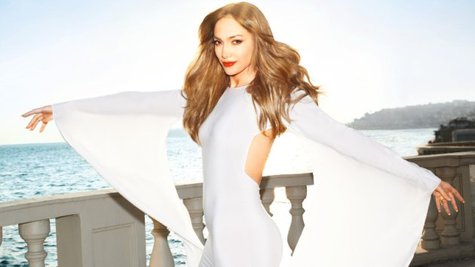 Late last month, Jennifer Lopez wrapped up her incredibly lengthy Dance Again world tour, which saw her performing everywhere from Miami and Minsk, to Munich and Moscow, to Melbourne and Manila. But despite the punishing tour schedule and 16-hour days, Jennifer says it's more important for her to be doing this than doing her previous job: being a judge on American Idol.
Explaining to Harper's Bazaar her decision to abandon her relatively cushy Idol gig, for which she reportedly earned close to $18 million a year, Jennifer says, "But I'm not a judge for a living. I'm a singer. I'm a dancer. I'm a performer. I'm an actress. That's what I'm supposed to be doing." She adds, "It makes me a better parent, a better person."
When asked how she's able to survive her crazy schedule, she tells the magazine, "I think I can just handle more than the average bear, you know?" One of her secrets is discipline, according to Harper's Bazaar. Jennifer doesn't smoke or drink, and she gets eight hours of sleep a night. She also avoids sugar and salt, except for her one vice: sour cream and onion chips.
Of course, J-Lo also travels with quite the entourage to make things easier, including, according to Harper's Bazaar , her manager, her four-year-old twins, assistants, security, a trainer, hair and makeup people, tour managers and more.
"I like the whole idea of traveling, of looking good, and doing it well," she tells the mag . "I make it as simple and as beautiful as I can because my life is kind of big. So I pack my luggage, or dress myself, or comb my kids' hair, pick up their clothes -- that makes our life beautiful, you know? There's something very elegant in that."
Copyright 2013 ABC News Radio