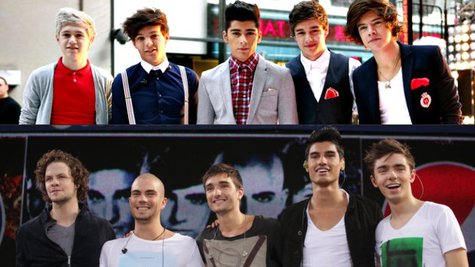 That shrieking sound you heard in 2012 was the female population's delirious reaction to the news that, for the first time in over a decade, boy bands were back. And just like that original boy band, The Beatles, these lads were British. Well, O.K., British and Irish.
The Wanted -- four English guys and one Irish dude who'd been put together via a casting call -- got things rolling with their cheeky double-entendre single "Glad You Came." It was covered on Glee , and eventually reached #3 on the Billboard Hot 100: the highest a British boy band has ever gotten on the U.S. chart with a debut single. "Chasing the Sun," which was used in the movie Ice Age: Continental Drift , followed.
The group -- Max , Jay , Tom , Nathan and Siva -- then went on a relentless U.S. promo tour, appearing on every conceivable TV show, and got a big boost when they started working with Justin Bieber's manager, Scooter Braun , and opened some shows for The Bieb. They were nominated for an MTV VMA, several Teen Choice Awards and an American Music Award.
However, their year ended in a tangle of tabloid headlines, when they struck up a friendship with Lindsay Lohan , and had the bad luck to be at a New York City club with her when she allegedly got into a fistfight with another patron. Lohan then became a Wanted groupie, traveling on the group's bus from show to show, and the group called her a "sweetheart" and an "angel;" cynics wondered , though, if The Wanted was simply using the starlet's notoriety to up their profile in the U.S.
The Wanted's biggest challenge, however, was spending the latter half of 2012 being compared to another boy band that would become, at least in the press, their arch-rivals: One Direction .
Also comprised of four English guys and an Irish dude, 1D's members were younger and prettier and, having gotten their start on The X Factor , they had Simon Cowell's promotional know-how behind them. Thanks to their super-catchy hit "What Makes You Beautiful" -- highly reminiscent of "Summer Nights" from Grease -- One Direction mania soon swept the U.S. The band's first U.S. album, Up All Night , entered the chart at #1: something no British group, including The Beatles, had ever done with a debut release.
Soon, Beatles comparisons were flying thick and fast, as girls screamed, shows sold out -- including their entire 2013 tour, a year in advance -- and deals were signed for dolls, games and other merchandise. More hits, including "Live While We're Young" -- which deliberately copied the intro of "Should I Stay or Should I Go" by the Clash -- followed.
Liam , Louis , Harry , Zayn and Niall didn't appear on quite as many TV shows as The Wanted, but the ones they did do had a big impact, including two hugely-attended concerts on NBC's Today show and a feature on Barbara Walters ' annual Most Fascinating People special. They headlined at New York's Madison Square Garden, won three MTV VMAs, appeared at the Summer Olympics and performed for Queen Elizabeth II. They announced a fragrance deal, and scheduled a 3D movie, directed by Morgan Spurlock, for release in summer of 2013.
In November, 1D's second album, Take Me Home , also entered the chart at #1. And just when it seemed as though the group couldn't grab any more headlines, 1D member Zayn Malik got into a nasty Twitter war with Max George of The Wanted, and 1D member Harry Styles , the "bad boy" of the group, started dating Taylor Swift . Stay tuned for more One Direction mania in 2013.
Copyright 2013 ABC News Radio