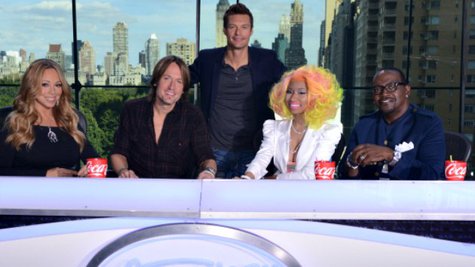 On Wednesday night's edition of American Idol , 10 more female contestants performed for survival at The Mirage in Las Vegas, with a live audience and judges Mariah Carey , Nicki Minaj , Keith Urban and Randy Jackson looking on.
By the end of the night, five of the women had advanced: Zoanette Johnson, Aubrey Cleland, Candice Glover , Breanna Steer and Janelle Arthur.
Melinda Ademi , a 19-year-old college student from Yonkers, New York, was first up. She performed Jessie J 's "Nobody's Perfect." Both Keith and Mariah observed that Melinda's nerves were apparent on stage. Nicki wasn't enamored with the song choice, given that Angela Miller sang "Nobody's Perfect" the previous week. Randy declared that Melinda didn't provide enough memorable moments, and that she was in danger of being eliminated.
Twenty-three-year-old South Carolina native Candice Glover applied her powerful vocals to the Aretha Franklin classic "(You Make Me Feel Like) A Natural Woman." Keith sang to Candice that she was a "nat-ur-al singer." Nicki raved about Candice's voice, which Randy called an "instrument." Randy encouraged her to be more free with her notes.
Juliana Chaheyed delivered an acoustic rendition of the Demi Lovato single "Skyscraper." The 15-year-old high school sophomore from California later explained to host Ryan Seacrest that she chose "Skyscraper" because her vocal coach suggested she take a song she doesn't like and make it her own. Sort of a backhanded compliment for Demi, but maybe The X Factor judge won't mind. Keith complimented Julia on the purity of the tone of her voice, comparing it to that of Jewel or Taylor Swift . Mariah and Randy praised her for her "celestial voice" and honest delivery, but Nicki wondered whether Juliana's timid personality would cause her to be lost in the shuffle.
Jett Hermano from Seattle sat down at the piano for a stripped-down version of Rihanna 's hit "Only Girl (In the World)." Keith said Jett brought out a new dimension of sexiness to the song with her arrangement. Nicki complained that she never felt a "climax" to the song, and Randy also thought that something was lacking. Mariah offered a different opinion, saying she was intrigued where Jett would go with her talent next.
Cristabel Clack tackled Alicia Keys ' "No One." Keith raved about the 29-year-old San Antonio resident's potential. Nicki argued that Cristabel's "rasp" seemed out of control at times, though Randy said he loved it. Mariah told Cristabel that she wants to hear more from her.
Aubrey Cleland was smooth with her take on "Sweet Dreams," by Beyoncé . Keith loved the fire in Aubrey's voice. Nicki declared that she is "obsessed" with Aubrey, adding that she was the first contestant of the night who carried herself like a true artist. Randy wanted to hear Aubrey sing something that required more range. Mariah felt the contestant was "limitless."
Rachel Hale , a 22-year-old from Arkansas, instilled her Southern twang in Grace Potter and the Nocturnals ' "Nothing But The Water." Keith wasn't familiar with the song but said it brought out a different side of Hale. Nicki questioned where Hale's confidence came from after being reserved in previous weeks. Randy like the energy from Hale after the other contestants selected ballads. Mariah said she "heard more from" Hale in other performances, but she hoped the contestant could sing more on Idol .
Breanna Steer took on "Bust Your Windows" by R&B singer Jazmine Sullivan . Keith again confessed he was unaware of the song -- to Nicki's amazement -- but he loved it. Nicki pronounced that Breanna was on Aubrey's level, and suggested that the two collaborate. She then stated that Breanna "brought sexy on a stick." Randy said Breanna brought so much drama that the lyrics sounded believable coming from her. Mariah enjoyed the presentation of the song.
Tennessee contestant Janelle Arthur covered "Just a Kiss" by Lady Antebellum . Keith didn't think the song gave her an opportunity to allow her vocals to soar; Randy agreed. Though Janelle is one of her favorites, Nicki thought she tried too hard. Mariah said she was rooting for Janelle.
Zoanette Johnson of Tulsa, Oklahoma, certainly delivered the most memorable performance of the night: "Circle of Life," from The Lion King . Keith pronounced her to be the "queen of the jungle." An emotional Nicki announced, "You just served it!" then told Zoanette, "I don't care what people say about you, you're the person that we're going to remember after tonight." Randy said she had the spirit of a lion, and it's infectious. Mariah envisioned her doing Broadway one day. Afterward, Zoanette broke down in tears, saying she was on Idol because of her family.
Zoanette Johnson, Aubrey Cleland, Candice Glover, Breanna Steer and Janelle Arthur join the other female semifinalists who made it through last week: Kree Harrison , Amber Holcomb , Adriana Latonio , Angela Miller and Tenna Torres .
On Thursday night, the final group of 10 guys will take the stage in the sudden death round, and this season's top 20 semifinalists will be revealed. It will be another two-hour edition of Idol , beginning at 8 p.m. Eastern time on Fox.
Copyright 2013 ABC News Radio