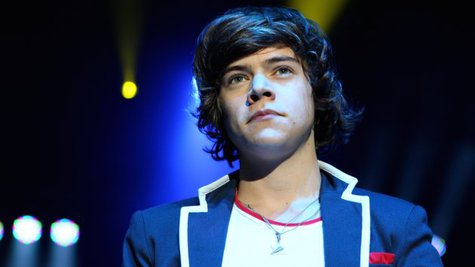 We don't think Taylor Swift was responsible, but One Direction's concert in Glasgow, Scotland on Tuesday was interrupted when Harry Styles got hit in the groin -- by a flying shoe.
According to the U.K. paper The Independent , the group had just finished performing the song "Last First Kiss" when a flying object landed onstage. Harry picked it up and showed it to the audience, saying, "It's a shoe." Then, another shoe came flying towards him, hitting him squarely in the crotch. It didn't look like it hit him that hard, but Harry doubled over, and then lay down on the stage.
When Harry got up, he appeared flustered and failed to answer a question someone asked him. Bandmate Liam Payne excused Harry, saying, "Well, he has just been assaulted."
Believe it or not, this isn't the first time that Harry has been clobbered in the crotch by a piece of footwear. The Independent reports that last April, while onstage in Australia, he was also nailed in the groin by what appeared to be a shoe.
Harry may want to think about wearing a cup the next time he goes onstage. Maybe ID's new charity single shouldn't have included part of a song called "Teenage Kicks."
Copyright 2013 ABC News Radio