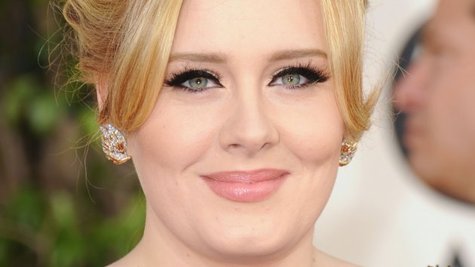 Adele now has a Golden Globe and a Brit Award on her trophy shelf for "Skyfall," her hit James Bond theme. This weekend, though, she's going for the ultimate piece of hardware: an Oscar.
"Skyfall" is up for Best Original Song from a Motion Picture at this Sunday night's Academy Awards, and most experts pick it as the favorite to win. And because Adele co-wrote the song, she'll be the one taking home her own little gold man at the end of the night. With all the song's success, it's amazing to think that she actually had to be talked into recording it.
"It's a huge responsibility, you know, and a lot of pressure to do a song for any film, let alone a Bond song," she says, explaining her reluctance to take on the assignment. " Shirley Bassey is the queen of Bond. So that pressure was huge."
In addition, Adele says that when she was invited to do the Bond theme, she was in a tough place in her life. "I've had a huge, weird, strange, bizarre year with my album 21 , that just shot me to beyond fame, it was ridiculous," she says. "And I was pregnant, so it was bad timing! That's why I didn't know if I wanted to do it."
But still, she has to be pleased that the Bond theme she did do was for the most successful flick in the franchise, right? "I'm not really made that aware of sales and figures of anything, really," she admits. "But it was kind of very talked about, that it was the most successful Bond. [But] I would've been proud if the movie had done nothing, as well." That's because she thinks the director, Sam Mendes , is "wonderful," and the script was "really exciting."
Overall, Adele enjoyed the challenge of writing a song that had to match up to a movie. "Normally I write about my misery," she laughs. "And this time I wrote something according to someone's script."
If Adele takes home the Oscar on Sunday, she jokes she's already got her next move planned: she's going to go for the "EGOT," which is a term popularized by the show 30 Rock . It means "Emmy/Grammy/Oscar/Tony," and there are only 11 people who've won all four. Among them: Whoopi Goldberg , the late actress Audrey Hepburn and director Mel Brooks .
"The next step is an EGOT," laughs Adele. "So I've gotta go Broadway, and be in a TV show. I'm going to do it! I'm going to do a Whoopi. I'm gonna do it!"
Copyright 2013 ABC News Radio