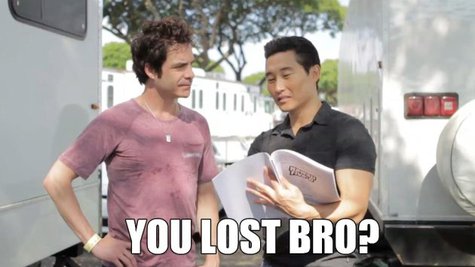 Last week, Train 's Pat Monahan guest-starred on Hawaii Five-0 , and now one of the stars of that show is returning the favor.
On Monday, Train's new video for their song "Mermaid" will debut on VH1's Big Morning Buzz Live show at 10 a.m., and appearing in the clip will be Daniel Dae Kim , who plays Detective Lt. Chin Ho Kelly on the hit CBS drama. Don't watch Hawaii Five-0 ? Well, then maybe you know him as Jin from Lost . In addition, ESPN reports that the video will include appearances by football Hall of Famers Eric Dickerson and Marcus Allen , as well as Josh Cribbs of the Cleveland Browns.
Train was able get all these folks in the "Mermaid" video because they actually shot it at the Pro Bowl in Hawaii, when they were there to perform a few weeks ago. Pat told ESPN, "The fact that we got to shoot our 'Mermaid' video there and include [the players] made it an experience that will forever be a highlight in our careers."
This isn't the first time Train has had a celebrity in their video: their clip for "Fifty Ways to Say Goodbye" featured a cameo from David Hasselhoff .
Copyright 2013 ABC News Radio