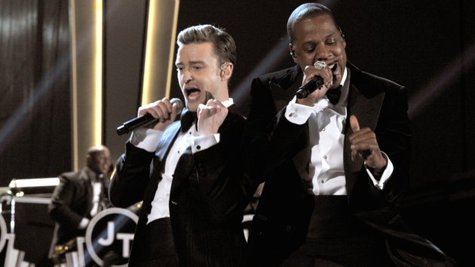 While it's been reported that Justin Timberlake and Jay-Z are teaming up for a big stadium tour this summer, so far, nothing's been announced. However, reports out of Boston and Baltimore seem to suggest that the tour is actually happening.
Sources tell The Boston Herald that JT and Hova will play Boston's famed Fenway Park stadium this August. According to the Herald , the Red Sox organization went to City Hall to request concert permits for August 10 and 11, when the team is in Kansas City. Though no artists were specified by the ball club, sources say the concerts in question will be by the "Suit and Tie" duo.
Meanwhile, sources tell the Baltimore Business Journal that the two artists will perform at Baltimore's M&T Bank Stadium, home of Super Bowl champs the Baltimore Ravens, in early August.
Rolling Stone originally reported that the summer stadium tour would include between 11 and 13 dates. Justin and Jay are headlining the Wireless Festival in London on July 12 and 13.
Copyright 2013 ABC News Radio