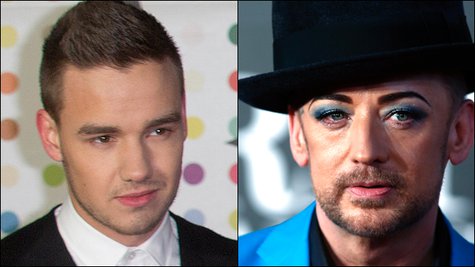 One Direction 's Liam Payne has found himself in a Twitter war of words with, of all people, British pop music icon Boy George , former singer of Culture Club . George started it by accusing Liam of dissing him, but Liam claims George is lying.
It apparently all started Wednesday night at the Brit Awards, which both George and 1D attended. Afterward, George seemed to be upset that either Liam wouldn't pose for a picture with his niece, or that Liam hadn't treated him with the respect he deserves. The singer tweeted , "Top marks to Harry Styles for stopping for a picture with my niece and [bollocks] to Liam and the disrespectful wanker of a minder!"
In case you're not aware, a "minder" is bodyguard or publicist. "Wanker" is a British insult.
An incensed Liam responded to George's tweet in a long rant in which he accused the '80s star of not knowing who he was, and for brushing him aside in favor of another 1D member.
"Now now boy lets not tell [lies]," wrote Liam. "Firstly thanks for getting my name wrong three times, secondly then asking me where is liam?...awkward."
He continued, "Then when you finally got it right [you said] you wanted Niall instead. if you would have asked me for a picture i would have stopped bro. I just did what you said and pointed Niall out for you."
Liam then slammed George's rather unique style of dressing , writing, "So u just keep wearing ur strange hats and enjoy yourself my little Georgie pie... It's still not cool you just look weird."
He added , in reference to Boy George's best known hit with Culture Club, "Do you really want to hurt meeee do you really want to make me cryyy come on 'boy' lighten up ... Can I borrow a hat and make up for next Halloween I'd love to look as scary as you ;)."
Of course, Boy George is now under attack online by devoted Directioners, who aren't happy that the singer was rude to their Liam.
"One direction fans stop bothering me!," George tweeted , and later said that he'd spent "all day blocking" tweets from enraged fans. He sniped , "This is proof that most fans of teeny bands are complete morons!"
Copyright 2013 ABC News Radio