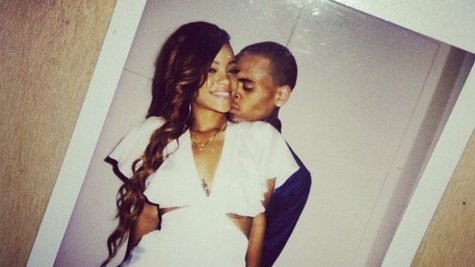 Valentine's Day came and went with no signs of Chris Brown on Rihanna 's Instagram feed, so some fans worried that the two might be on sketchy terms. But if pictures from Rihanna's all-day birthday celebration on Wednesday are any indication, Chris and Rih are still at it.
The pair spent Rihanna's 25th b-day in Hawaii, where they were photographed strolling hand-in-hand on the beach. They seemed to be taking things slow, with Rih -- in her tiny bikini and fishnet skirt -- sitting on the sand next to Chris for a chat on the shore.
The lovebirds didn't spend all their time exclusively in one another's company, though. Along with Polaroid pictures of her sitting on Chris' lap, Rihanna also shared photos of her family and friends who were on hand to party. "Me and my big little brother," Rihanna wrote , sharing a photo of herself with her arms around her brother Rorrey .
Rih certainly found time to " pour it up, pour it up. " But along with drinks, there was of course, a very special " Birthday Cake. " Rihanna was presented with a Rastafarian-inspired red, gold and green confection, accessorized with gold marijuana leaves. The cake matched the red, gold and green "#RASTAwoman" balloons that Rihanna also shared a photo of.
She apparently dug right in, sharing a picture of herself with icing all over her face and hands. " Put this #cake in ya face! I made him lick all this icing off! Lol " she wrote, referring to lyrics from her Chris-assisted "Birthday Cake" remix.
So what birthday presents did Rihanna get? Well, she shared a photo of a designer bag and a pair of flower leis, writing "Got the #goyard and getting lei'd at the same damn time."
Copyright 2013 ABC News Radio