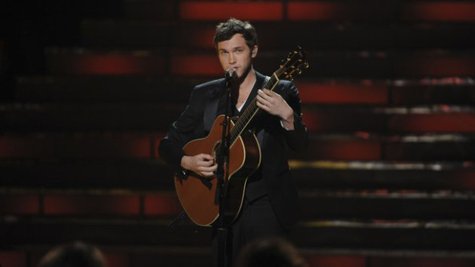 He may be the reigning American Idol champion, but that doesn't mean that Phillip Phillips is glued to his TV set, checking out season 12 of the show.
"Honestly, I'm not watching the show anymore," Phillip told Billboard . "I've been so busy."
Phillip isn't kidding: he's currently out on the road with Matchbox Twenty and he's also doing select TV appearances, like last weekend's spot at the NBA All-Star Game. When the Matchbox Twenty tour wraps up, he'll head out on his own college tour.
Although he's not watching the show, Philip still has some advice for this year's crop of Idol hopefuls. "Be yourself," is his message to them, according to Billboard . "Be your best self. Don't be rude to anybody. Just go out there and have a good time. And build those friendships."
Meanwhile, after months and months of playing his song "Home," Phillip finally has a new single, "Gone, Gone, Gone," to promote. But that's not to say he doesn't like "Home" anymore; he tells Billboard , "I'm not complaining. People enjoy the song and I'll play it for them."
Copyright 2013 ABC News Radio