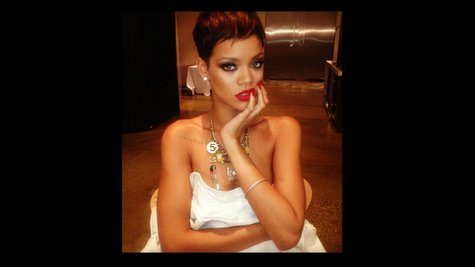 Happy birthday, Rihanna ! The singer, who was in London to debut her first-ever fashion collection a few days ago, turns 25 on Wednesday.
Maybe this time around Rihanna will celebrate her special day with confetti, and not controversy. In case you've forgotten, Rih marked her 24th b-day by revealing that the mystery guest on her "Birthday Cake" remix was none other than Chris Brown . The surprise musical reunion sparked mixed reaction from Rih's fans, many whom argued that she shouldn't be involved in any way with her ex after he assaulted her in 2009.
Still, that hasn't stopped Rihanna and Chris from rekindling their relationship over the past year. And in an interview with Rolling Stone last month, Rihanna talked about giving Chris another chance, explaining, "Even if it's a mistake, it's my mistake." The statement is pretty similar to the one Rihanna made on her Chris-assisted Unapologetic track "Nobody's Business." But since it's her birthday, maybe we should all be prepared for another surprise song release.
Copyright 2013 ABC News Radio