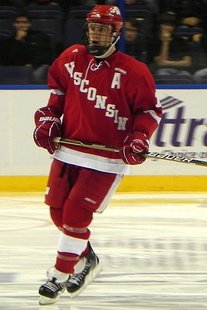 DULUTH, MN (WTAQ) - The Wisconsin women's hockey team was 3-for-9 on the power play and that was enough.
The Badgers made sure they will play again at LaBahn Arena's home ice by beating Minnesota Duluth Saturday 3-1.
The combination of that victory and Ohio State taking two losses this weekend means the Badgers can't finish any lower than 4th place. Wisconsin's record is 18-9-2 overall, including 14-9-2 in the WCHA.
Madison Packer had a hand in all 3 Badger goals. She got an assist when Alev Kelter put UW on the scoreboard 11 minutes into the game, then made it 2-0 with her own goal at the 7:00 mark of the second period.
And, Packer got her third goal to give Wisconsin an insurance score on a deflection in the third period.
The difference came on power plays. The Badgers killed 5 and scored 3 times themselves.
Wisconsin wraps up its regular season at home Sunday afternoon at 4 p.m. The game against Minnesota Duluth is senior day, with five seniors acknowledged during a pregame ceremony.