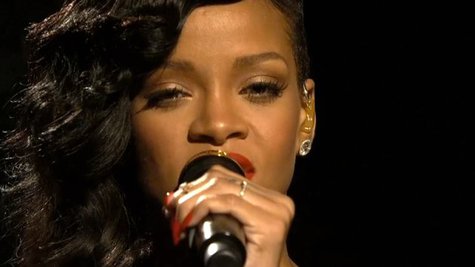 fun.'s Grammy-winning hit "We Are Young" features vocals by Janelle Monae ...but if things had gone a big differently, it would have been Rihanna singing on the chart-topping smash.
fun. producer Jeff Bhasker , who co-wrote "We Are Young," tells MTV that when the group was looking for a female voice to add to the song, he suggested Rihanna, even though at that point, fun. were pretty much unknown. "Someone tried to reach out and I know she heard the song and liked it," Bhasker recalls.
So why didn't she sing on it, then? "I think some wires got crossed," he tells MTV, adding that ultimately, Janelle Monae turned out to be "the perfect choice," bringing "the right element of a great soulful flavor."
But having Rihanna on the track isn't the only fate that could have awaited "We Are Young" in some parallel universe. According to Bhasker, the song almost ended up on Watch the Throne , the joint album from Kanye West and Jay-Z .
Bhasker also worked on that album, and he tells MTV he offered the two rappers the beat for "We Are Young" before he ever worked with fun.
"They were going to rap over the beat, but everything gets changed at the last minute," Bhasker says, adding that when he met fun. singer Nate Ruess , he played him the same beat...and "We Are Young" was born. "It worked out for everybody," he says.
Copyright 2013 ABC News Radio