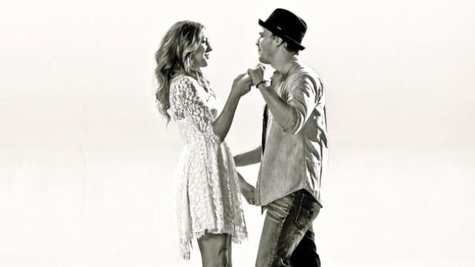 Gavin DeGraw and Colbie Caillat have something to celebrate on Valentine's Day. No, they're not dating each other, but their duet, "We Both Know," is featured in Safe Haven , the new romantic film based on the book by Nicholas Sparks . It hits theaters Thursday, February 14.
Gavin says he was always up for writing and singing a song with Colbie, because the two are friends who spent months last year touring together. But he admits that being asked to do a song for a movie made it special, especially a movie based on a Nicholas Sparks novel.
"I was thinking, 'Oh, Nicholas Sparks, wow, The Notebook ,'" Gavin tells ABC News Radio. "I mean, that was an awesome movie. I remember seeing that movie on the plane one day a few years back. And I thought, 'This is an incredible film, so if it's going to be anything like [that], y'know, the same author, if it's going to be quality, I want in!'"
What further convinced Gavin that the movie would be special is when he found out who was starring in it: Josh Duhamel and Julianne Hough .
"I was like, 'Oh! Julianne Hough! I know Julianne Hough. I love Julianne Hough! I know her brother Derek from Dancing with the Stars,'" Gavin recalls thinking when he learned about the casting. " They're awesome people, and I said, 'Oh man, I'm so happy to be a part of it.'"
It does sort of seem like a happy coincidence that Gavin would be a contestant on Dancing with the Stars , and then go on to do a song for a movie starring one of the show's former pro dancers. The singer says he's thrilled that he and Colbie got to contribute to the project.
"To be included on it is an honor," he tells ABC News Radio. "And it's very flattering for an artist and a songwriter, to be invited to do it. And the release date....you know, it's coming out on Valentine's Day, which will just add that much more to the whole idea of the romantic elements of the story."
"We Both Know" is currently available on iTunes. The video intercuts scenes from the movie with footage of Colbie and Gavin.
Copyright 2013 ABC News Radio