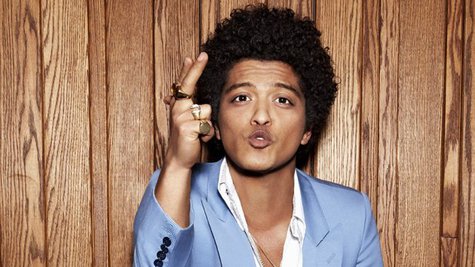 This is f***in' awesome...again. Macklemore & Ryan 's hilarious hit "Thrift Shop" is number one for a fourth straight week on the Billboard Hot 100. It's sold more than 300,000 copies per week for the past five weeks, and has now gone triple platinum.
Meanwhile, Bruno Mars , the artist Macklemore & Ryan knocked out of the #1 spot, now has a consolation prize: his new single "When I Was Your Man" has just jumped from #22 to #9, giving the singer his 10th top 10 hit. His previous single, "Locked Out of Heaven" is still #2. That means Bruno currently has two songs in the top 10. The last male artist to have two top 10s at the same time was....well, whaddya know? It was Bruno Mars, who did it in 2011 with "Grenade" and "Just the Way You Are."
And there's more good news for Bruno: Forbes reports that in the wake of the Grammys, he was the big winner when it came to social media. He added 100,000 Twitter followers, 125,000 Wikipedia pageviews and 1.7 million Vevo video views: more than any other artist or nominee on the telecast.
Elsewhere on the chart, Maroon 5 's "Daylight" enters the top 10. That means that the band has now scored three top 10 hits from their current album, Overexposed , following "Payphone" and "One More Night." That's more top 10s than any of their previous albums produced, including their bestselling breakthrough Songs About Jane .
Copyright 2013 ABC News Radio