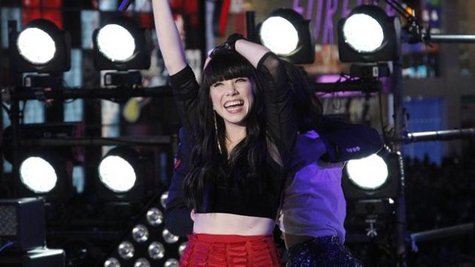 Carly Rae Jepsen didn't win a Grammy this past weekend, but she did score a nice consolation prize: she's been tapped to headline her home country's annual Independence Day celebrations this year.
According to a series of tweets from Canada's culture and heritage minister James Moore , Carly will be the featured performer on July 1 for Canada Day festivities on Parliament Hill in Ottawa, the nation's capital.
Moore took to Twitter to announce , "Canadians are all very proud of Carly Rae Jepsen tonight. News: @carlyraejepsen will headline the 2013 Canada Day noon show in Ottawa!"
While on Twitter, the Canadian minister, who first met Carly in 2010 at the Juno Awards, praised the singer as "a [very] sweet girl with real talent. Well done!" and added that he is looking forward to her Canada Day performance.
Carly Rae will be re-joining her buddy Justin Bieber on tour in Europe soon. In a recent video she made for the Juno Awards , she revealed that the five things she cannot live without on the road are her iPhone, disposable toothbrushes with the toothpaste already in them, vitamin tablets that she drinks dissolved in water, her journal and her compass necklace, which always reminds her where home is.
Copyright 2013 ABC News Radio