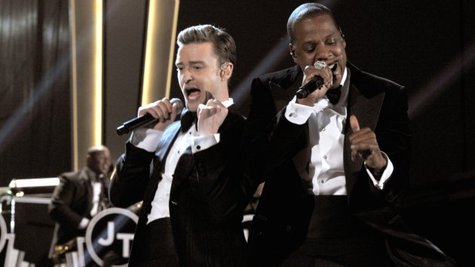 Speaking about his future plans to E! recently, Justin Timberlake said, "We're definitely going to go on tour." Who's the "we"? According to Rolling Stone , Justin was referring to himself and Jay-Z .
A source confirms to the magazine that Hova and JT are planning a stadium tour this summer that would see the duo playing 11 to 13 dates. Of course, Jay appears on Justin's new single, "Suit & Tie," and the rapper joined Justin on stage both in New Orleans during Super Bowl weekend and on the Grammy Awards to perform the song.
Reps for Justin had not responded to ABC News Radio's request for confirmation at press time.
Justin's new album The 20/20 Experience is due March 19. Rolling Stone reports that a friend of Justin's helped him come up with the title for the disc when he described the music to the singer as "very visual," and said that while he was listening to it, he felt like he could "see the music." Justin said he replied, "That's really cool, music that you can see, not just hear. That's a real experience. What if I just called this The 20/20 Experience ?"
In other Justin Timberlake news, the singer has joined Instagram , and has flooded the photo-sharing site with black and white pictures of himself onstage and backstage during Grammy weekend.
Copyright 2013 ABC News Radio