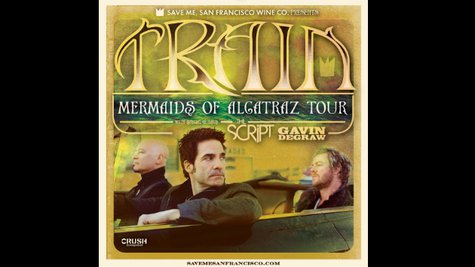 Train has always enjoyed making their shows interactive, and their upcoming trek, called Mermaids of Alcatraz, is no exception. The band is asking fans to attend their concerts this summer dressed as mermaids...or even mermen.
A note on Train's website reads , "This summer...we're looking for the best dressed beauties in the water. That's right, we want to see folks of all ages dressed up as mermaids (Mermen are welcome too)!"
And if you think walking around in a fishtail all night would be a hassle, well, don't worry -- the band plans to make it worth your while.
"Not only will you get free special mermaid goodies at the Mermaid Table each night, you'll be entered to win prizes such as premium seating upgrades, or get brought up onstage during the show!!" says the website. "So grab your best mermaid costume (and ticket) and we'll see you there."
Train's latest single from their current album California 37 is "Mermaid." The tour, featuring Gavin DeGraw and The Script as opening acts, kicks off July 17 in Cleveland, Ohio.
Copyright 2013 ABC News Radio