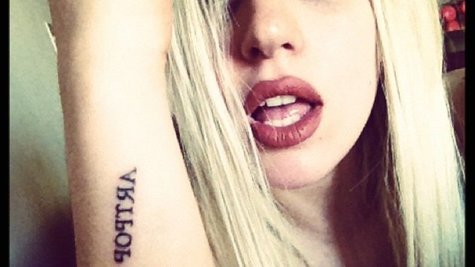 Nobody knows when Lady Gaga will release her new album ARTPOP , but speaking with some fans after a recent show, she reportedly gave an idea of what the disc will sound like, and what her timetable is for completing it.
The Gaga fansite PropaGaga got to chat with the star following her show February 6 in St. Paul, Minnesota, and it reports that according to Gaga, ARTPOP is close to being finished, but she plans to take three weeks after the tour is over to re-record all the vocals to make sure they're of the highest quality.
Describing the project as her "first real album," Gaga told the website that she was "much happier" while writing and recording ARTPOP than she was while making Born This Way ; in fact, she says that she created Born This Way as a "form of therapy." Now that she's moved on with her life and is happier, Gaga said, she's going to give fans what they want: "fun, dirty, dance music."
According to the website, Gaga also, in typical over-the-top fashion, described ARTPOP as being about "a phoenix rising from the ashes," and said she was worried that she'll never be able to top it because she "knows that it's that good."
Gaga's Born This Way Ball tour wraps up at the end of March in Oklahoma.
Copyright 2013 ABC News Radio