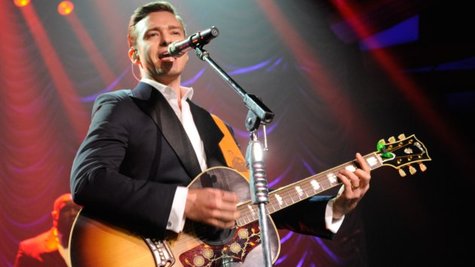 Now that Justin Timberlake showed everyone what he can do live on the Grammys, he's ready to take his show on the road. He tells E! News that he's "definitely" going to go on tour.
"We're still putting it together, but its going to be a lot of fun," said JT. "I don't know how much I should say. It's going to be a lot of fun, I know that."
The singer said he was "excited to get onstage again and play live," adding, "You go through the rehearsal a million times, but until you get onstage, it's just the rehearsal."
Justin gave fans more of a taste of what they could expect from his upcoming tour at a post-Grammys headlining show at the Hollywood Palladium. MTV reports that JT had the crowd in the palm of his hand, performing new material; old hits like "SexyBack," "Like I Love You" and "Cry Me a River"; deep cuts and covers like INXS ' "Need You Tonight" and "Shake Your Body (Down to the Ground)" by The Jacksons .
Justin also talked to E! News about his upcoming album The 20/20 Experience , due next month.
"A lot of times you write a song and you create a character that's maybe a little bit [of an] alter ego," he said. "But this time around, I feel like we were not only able to create those characters with the stuff that I wrote but, working very closely with [ Timbaland ] on it, we were able to create a sonic palette to go around it that really puts you in that world."
Copyright 2013 ABC News Radio