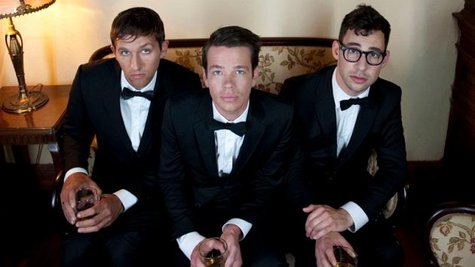 Going into the 55th annual Grammy Awards this Sunday night, the only thing that's certain is uncertainty. Unlike last year, when Adele was nominated in every category and it was a foregone conclusion that she'd sweep them all, this year's potential winners are much less obvious.
This year, there are six different acts who've received six nods each --the band fun. , rappers Jay-Z and Kanye West , R&B singer Frank Ocean , Dan Auerbach of alternative rockers The Black Keys and British folk rockers Mumford & Sons -- so the field is sort of wide open. That's why ABC News Radio turned to some experts to predict what they think will happen come Sunday night in the major Grammy categories.
Record of the Year
Yahoo! Music's Paul Grein , a member of the Recording Academy's Hall of Fame committee, says the choice is clear to him in this category. "The record to beat for Record of the Year is 'Somebody That I Used to Know,'" he tells ABC News Radio. "From the first time I heard it last spring, I thought that it just has the sound of a Grammy Record of the Year winner. It was the biggest hit of the year."
But People magazine's music critic Chuck Arnold disagrees: he's going with Taylor Swift 's "We Are Never, Ever Getting Back Together" in that category. "[She] had a huge song. She's a big face at the Grammys. She's won a ton before and this is a song that crossed genres," he explains. "So, you know, you're gonna have the country block voting for this as well as the pop block."
Best New Artist
Grein says in this category, where the nominees include fun., Frank Ocean, country star Hunter Hayes , folk rock act The Lumineers and alternative rockers Alabama Shakes , he thinks one act has the edge, thanks to their chart success and their many nominations in the most prestigious Grammy categories.
"I think fun. is probably the frontrunner just by virtue of the fact that it's nominated in all four of the big four categories," Grein says, referring to Record, Song and Album of the Year and Best New Artist. "Frank Ocean's nominated for three of the four. It's between those two. But I think fun. just had such a huge year, they're probably the act to beat here."
And People's Chuck Arnold thinks that fun. is likely to be carting home armloads of Grammy statuettes on Sunday night. "They are nominated in all of the big four categories, and I think they have a really good shot at winning at least three of them," he predicts. "So, I think that they're probably the ones that have the best shot at taking home, say, three or four Grammys."
Album of the Year
One of the most critically-acclaimed albums of the year has been Frank Ocean's Channel Orange , but Yahoo!'s Grein says he's no longer convinced that it's the frontrunner for the Album of the Year category. "I initially, thought that Frank Ocean would have a good chance, and he has some chance, but his record sales haven't really kept pace with his critical acclaim," Grein predicts. "I think it'll be Mumford & Sons."
Arnold, however, thinks that Ocean will win simply because the other nominees in the category: fun., Mumford & Sons, The Black Keys and alt-rocker Jack White , are all rock-based performers. "Because of the rock votes possibly splitting on the other four nominees there, I really think he has a great shot at Album of the Year," predicts Arnold.
Best Pop Solo Performance
This is a competitive category, with Kelly Clarkson , Adele , Katy Perry , Rihanna and Carly Rae Jepsen all fighting it out for the win. Common sense would dictate that Adele, who's up for a live version of "Set Fire to the Rain," would win, because, well, she won everything last year and the Grammy voters love her. But Grein says that's no guarantee of future wins.
"Often, the year after you sweep, you don't win again because people think, 'Enough, Enough already. Let's wait 'til her next album,'" he points out, predicting, "I'm going to go with Kelly, even acknowledging how strong Adele is." Why? Grein says that "everybody loves Kelly," and everyone can relate to the message of empowerment of the song she's nominated for: "Stronger (What Doesn't Kill You)."
Performances vs. Wins
The Grammys telecast will feature 19 different musical performances, and only a fraction of the actual awards being handed out on camera. That's because when it comes to the bottom line, performing on the show can guarantee an artist a better return than simply taking home a trophy.
"If you have a great performance, that'll probably do more to sell records than to win," says Grein. As an example, he cites Mumford & Sons, who were on the telecast a couple of years ago. They didn't win anything, but their sales skyrocketed afterwards thanks to their performance. "You know, the best combination is to both win and perform," says Grein. "But if you have to do one or the other, I'd say perform."
Copyright 2013 ABC News Radio