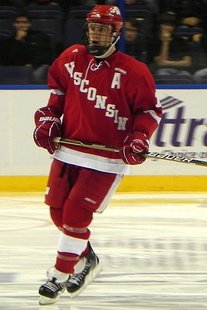 MADISON, WI (WTAQ) - St. Cloud State enjoyed an early one-goal lead, but the rest of the contest belonged to the Wisconsin women's hockey team Saturday afternoon.
Five Badgers scored a goal in the 5-1 victory. Three of those goals came on power plays.
Just 10 seconds into the first power play, Karley Sylvester found the back of the net for the Badgers. Rachel Jones scored her first collegiate goal early in the second period and that one was actually the game-winner.
Jordan Brickner, Brianna Decker and Madison Packer also scored.
Wisconsin went 3-for-6 on power plays, while killing off two penalties on defense.
The win was number 200 for Wisconsin coach Mark Johnson. The Badgers record improves to 17-9-2, including 13-9-2 in the WCHA.