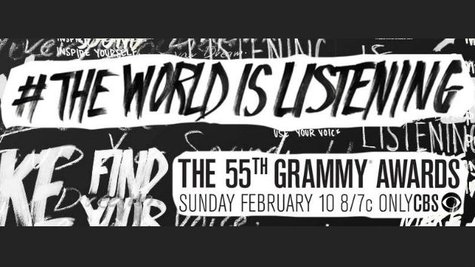 The 55th Annual Grammy Awards air this Sunday night on CBS, and while you'll get to see some awards handed out, the show is really all about the musical performances: 19 in all. Some of the most anticipated will be so-called "Grammy Moments," which feature artists who don't normally perform together collaborating on special duets. Here's who you can expect to see on Sunday night and what they might sing:
--Bruno Mars , Rihanna and Sting , possibly performing a combination of "Locked Out of Heaven" and a classic Police song
--Maroon 5 & Alicia Keys , possibly singing a mashup of "Daylight" and "Girl on Fire"
--Ed Sheeran & Elton John duetting on something "stripped-down," possibly Ed's hit "The A Team"
--Elton John , Mumford & Sons , soul legend Mavis Staples and country star Zac Brown , among others, doing a tribute to late Rock and Roll Famer Levon Helm , the drummer for The Band
In addition, Taylor Swift will open the show with a huge extravaganza of a performance, while Kelly Clarkson is rumored to be performing a tribute to two Lifetime Achievement Award winners: Carole King and Patti Page . Other performers on the show will include The Lumineers , fun. , Carrie Underwood , Frank Ocean and, for the first time since 2009, Justin Timberlake .
Presenters on the show include John Mayer , Carly Rae Jepsen , Katy Perry , Ne-Yo , Dave Grohl , Neil Patrick Harris , Ryan Seacrest , Keith Urban , Johnny Depp , Ellen DeGeneres , Pitbull , Kelly Rowland , Bonnie Raitt , Beyonce , Hunter Hayes , Jennifer Lopez and Prince . Rapper and actor LL Cool J serves as host for the show, which gets underway at 8 p.m. ET/PT.
Copyright 2013 ABC News Radio