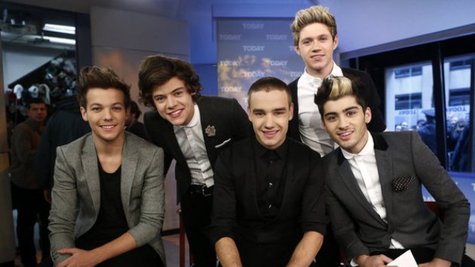 What can fans expect from One Direction 's upcoming 3D movie? A whole lot of fun, judging from the trailer that debuted Friday on the British morning TV show Daybreak.
In the trailer for the film, which doesn't yet have an official title but may be called 1D3D , the five guys of 1D are seen goofing around, pranking each other, performing in concert and in studio and hanging with their fans as their hit "Live While We're Young" plays in the background.
1D's Zayn Malik explains in the trailer, "As a group, we're stronger than if it was five people all by themselves." It's a good observation, considering the fact that all five members started out auditioning as soloists on the U.K. version of X Factor. After failing to make it on their own, they were subsequently put together in a group, and now they've conquered the world .
Showing how tight the five members are, 1D's Liam Payne says in the trailer, "I always wanted a little brother -- now I've got four of them."
Directed by Morgan Spurlock , who brought you the anti-fast-food documentary Super Size Me , the 1D film also showcases the work of Niall Horan , who shot some footage himself. More filming is planned during the group's world tour, which kicks off in London on February 23. The North American leg gets underway in Fort Lauderdale, Florida on June 13.
The movie arrives in theaters on August 30.
Copyright 2013 ABC News Radio