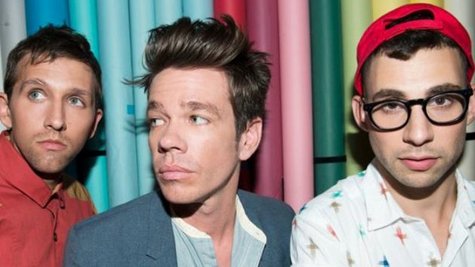 If you're a musician who's had a certain level of success over the year, it's not out of the question to start wondering if you'll receive a Grammy nomination. But for some first-time nominees this year, the thought that they'd be in the running for the music industry's highest honor never crossed their minds...or so they claim.
A fun. Night at the Grammys
The band fun. has had one amazing year, with a best-selling album; one massive smash song, "We Are Young"; and a big follow-up hit, "Some Nights." It's no wonder then that they've received six nominations this year, including nods for Record, Song and Album of the Year, plus Best New Artist. But lead singer Nate Ruess says he's been shocked by all their success, and the thought of actually winning a Grammy is almost inconceivable.
"It's something that I would have never thought of," he tells ABC News Radio. "I always just thought that this band was gonna go the route of just trying to be bigger and bigger live and I didn't think commercial success -- especially having been doing this for over a decade -- was really in the cards."
Nate says it was only after fun. started doing so well on the charts that he slowly came around to the idea that a Grammy win might be possible.
"It kind of just shifts our focus and we realize that we can reach more people than we ever thought possible and so suddenly a Grammy...the thought of that is brought up, and...I dunno," he says. "I guess we'll just cross our fingers. Or cross only one hand of fingers -- you don't wanna do two 'cause then you jinx it!"
Sheeran Gets an "A" and a Nomination
Ed Sheeran is another first-time nominee who didn't really expect a nomination, but he's up for Song of the Year for his haunting hit single "The A Team." "I didn't, this year, expect to be nominated. I haven't really done much in America as far as commercial success," he says. "I'm still kinda building it up." He calls the recognition, "a stamp of approval from the American industry," telling ABC News Radio, "To get it this early on is lovely."
Ed admits that when he found out about the nod, he happened to be drunk already, so he didn't have the opportunity to go out and get wasted to celebrate. Instead, he says, he spent "the next ten minutes giggling." However, Ed's convinced he's not going to win...he thinks fun. will beat him with their song, "We Are Young."
"Being in the best song category you're amongst other songs that are very, very well written," he notes. "And the other element is the impact that they've had. And I think fun. was one of the biggest songs of last year and to have actual impact, and will probably get it."
Lumineers Make "Hey," Land Grammy Nods
The Lumineers are another act that's a first-time nominee. Thanks to their song "Ho Hey," they've nabbed two nominations, including one for Best New Artist. But the group says it's not anything they're stressing about, because they never considered the possibility that a Grammy could come their way.
"We didn't start writing music to try to win a Grammy and I think that if we win, great. If not, we'll continue to do our thing," says drummer Jeremiah Fraites . "So, I think if we win, I don't know what the hell we'll say. And if we don't, then we won't have to say anything!"
Singer Wesley Schultz agrees, adding, "We're not very eloquent speakers...so, it wouldn't really go that well [if we had to make a speech]. I'd rather just give us an instrument and let us play a song."
Copyright 2013 ABC News Radio