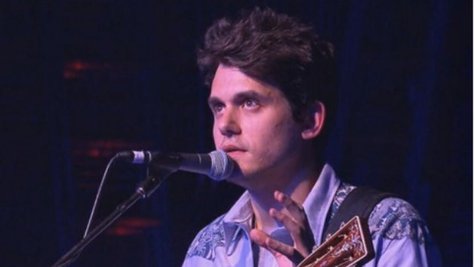 John Mayer says he's currently "quite happy" in his relationship with Katy Perry , and so far, things seem to be going fine with the couple. But it wasn't that long ago when John was considered the worst sort of womanizer, and in an interview which will air on CBS Sunday Morning, he's owing up to it.
"I was just a jerk," John tells CBS' Anthony Mason on the show, speaking about his past behavior. After all, who could forget his 2010 Playboy interview, where he referred to his ex-girlfriend Jessica Simpson as "sexual napalm," dished on his relationship with Jennifer Aniston and made seemingly racist comments about the types of women he prefers?
Attempting to explain his behavior, John tells Mason, "I wanted everybody to like me. I thought I was one shuck and jive away in every direction." But now, he says, he's changed. "It's very liberating when you finally realize it's impossible to make everyone like you," he admits.
John also tells Mason that dealing with losing his voice for months following vocal cord issues and surgery wasn't as difficult as dealing with the bad PR he got from all his "open mouth, insert foot" comments. The interview airs this Sunday at 9 a.m. ET on CBS.
Copyright 2013 ABC News Radio