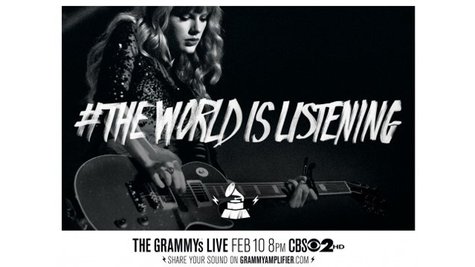 If you're going to tune in to any part of the Grammy Awards telecast Sunday night, the first few minutes seem like they'll be pretty entertaining. Ken Ehrlich , executive producer of the awards, tells ABC News Radio that Taylor Swift 's big opening number will be quite the extravaganza.
"What's really great about Taylor is that as she's grown over the past several years, she's become much more interested and much more aware of wanting to do bigger and bigger productions," says Ehrlich. "So, she's got both stages of our double stage going, and she's got a stage full of people." He adds, "It's probably the biggest production element in the show and it's gonna be very exciting, and it's great to see her continue to grow to this level."
Aside from solo performances like Taylor's, fans will also see unique musical collaborations, like Maroon 5 singing with Alicia Keys , Bruno Mars teaming up with both Sting and Rihanna and Ed Sheeran duetting with Elton John .
"People now come to expect that from our show," says Ehrlich of these "Grammy Moments." "And artists now are very open and receptive about doing it, because they really look at it as an opportunity. It's not something that they can necessarily do on other shows, that say to them, 'OK. Just come on and do [your] hit.'"
In the case of Alicia and Maroon 5, Ehrlich says he decided to put them together because he thought their current singles -- "Girl on Fire" and "Daylight" -- sounded like the same song.
"When I listened to them, there was this incredible commonality that, to a point where, when I mashed 'em up and played 'em together just to kind of see how it felt, there were a couple of places where I wasn't sure which song I was listening to," he explains.
Ehrlich's also excited about the return to the Grammy stage of Justin Timberlake , who he says "saved our lives" back in 2009 by performing an extra number to fill a hole in the broadcast -- a hole which Ehrlich notes was caused by "that little drop-out with Chris Brown and Rihanna ." You may recall that both artists, then a couple, pulled out of the show at the last minute after he assaulted her. "We've missed him," says Ehrlich of Justin.
While acknowledging that staging a telecast of more than three hours, with 19 musical performances, awards being handed out and huge egos everywhere, is "incredibly difficult to do logistically," Ehrlich tells ABC News Radio, "The human part of it -- the talent booking, the creative part of it, the music that's created by our artists -- you know, that's the joy of it. "
So overall, what can viewers expect from this Sunday's telecast, which airs on CBS at 8 p.m. ET? Says Ehrlich, "What you can expect is three-and-a-half hours of things that you probably won't see anywhere else."
Copyright 2013 ABC News Radio