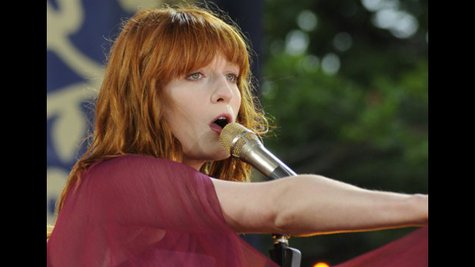 Florence + the Machine 's Florence Welch has two things to celebrate: her first-ever top 10 hit, and her new signature line of jewelry.
"Sweet Nothing," Florence's collaboration with Scottish DJ and producer Calvin Harris , has just hit the top 10 on the Billboard Hot 100. It's Calvin's first top 10 hit as a lead artist; he was billed as a guest on Rihanna 's #1 hit "We Found Love." It's Florence's first-ever top 10 U.S. hit, with or without her band. The highest she'd previously gotten was #21 with her and Machine's song "Dog Days Are Over."
As for the jewelry, it's inspired by Florence + the Machine's Grammy-nominated album Ceremonials . Called Flotique, the seven-piece collection features three necklaces, two pairs of earrings, a ring and a cuff bracelet. The jewelry runs between $33.00 and $82.50 and is available now on the band's official website .
Copyright 2013 ABC News Radio