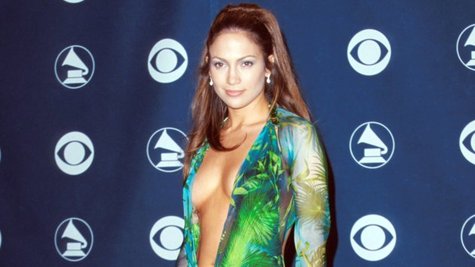 In the past, the Grammy Awards have seen some racy outfits, like Jennifer Lopez 's plunging Versace dress. But for this Sunday's Grammys, CBS, which is airing the telecast, has two words for the artists who'll be appearing: cover up.
Deadline has obtained a memo from CBS Standards and Practices informing all the talent that when they take their stage, their naughty bits must remain out of sight. "Please be sure that buttocks and female breasts are adequately covered," reads the memo. "Thong-type costumes are problematic. Please avoid exposing bare fleshy undercurves of the buttocks and buttock crack"
Also off limits: "Bare sides or under curvature of the breasts," commonly known as "side boob" and "under-boob." In addition, CBS wants artist to avoid "see-through clothing that could possibly expose female...nipples," and they want everyone to be sure "the genital region is adequately covered."
In addition, CBS is asking everyone to refrain from wearing clothing emblazoned with brand names or obscenities, even if they are obscured. Any clothing with foreign phrases needs to be cleared -- presumably so an artist can't getting away with telling the world to go eff themselves in, say, Japanese.
Finally, CBS is also asking people to refrain from wearing anything that "spells out" any "organized cause," including "lapel pins or any other form of accessory."
Regarding the memo, a source snarked to Deadline, "I assume that my lovely colleagues do not get this same email for the Oscars."
Copyright 2013 ABC News Radio