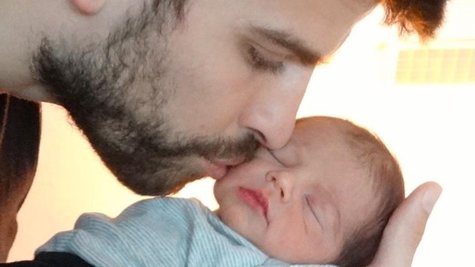 Shakira and her baby daddy, FC Barcelona soccer player Gerard Piqué , are big on social media, so it shouldn't surprise people that, on Monday, Shakira used Facebook to feature a photo of their son Milan . Shakira's Facebook comments in English and Spanish stated, "Meet our baby boy Milan," and was posted along with a photo of the Gerard kissing the infant, who was born on January 22.
Still, it wasn't Milan's first appearance. Initially, Shakira posted a link to the image on the UNICEF website, and the couple continues to promote their "online baby shower" charity initiative to raise donations for UNICEF. In addition, they're offering fans a chance to win goodies by cross-promoting their initiative online.
To participate in the baby shower contest or donate to purchase life-saving gifts for impoverished children worldwide, fans can go online to Shakira.SocialToaster.com . Donation amounts range between $5 and $110 or more. Fans can also earn points by promoting the site through social media using hashtags and other phrases including @Shakira, @3GerardPique, @UNICEF, #babyshower and "children" among others.
The more points fans earn, the more goodies they can win, and prizes include signed Shakira CDs and DVDs, and FC Barcelona shirts and footballs. Additional contest details can be found on the website.
Copyright 2013 ABC News Radio