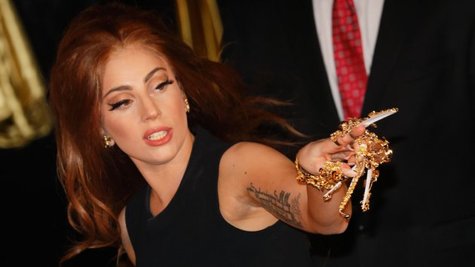 Lady Gaga may have nothing but love for her Little Monsters, but she doesn't seem to feel that way about the little people: at least, not in the case of her former assistant, who's suing Gaga for back pay.
According to the New York Post, Jennifer O'Neill , the former assistant, said that when she worked for Gaga during two different stints, she put in 7,168 hours of unpaid overtime, and now wants more than $393,000, plus damages. The Post has obtained the records of Gaga's six-hour deposition in the suit, which took place back in August, during which she had some choice words for O'Neill.
The singer called O'Neill a "f**king hood rat who is suing me for money that she didn't earn," and added, "She's just -- she thinks she's just like the queen of the universe. And, you know what, she didn't want to be a slave to one, because in my work and what I do, I'm the queen of the universe every day."
Gaga also said that none of her other employees received overtime, and noted that O'Neill "knew exactly what she was getting into" when she took the job, which paid $75,000 per year. Added the singer, "I never paid her overtime the first time I hired her, so why would she be paid overtime the second time. This whole case is bulls**t, and you know it."
The star said she was "aghast" that O'Neill would sue her, calling her "a disgusting human being" for doing so, and insisting, "I'm quite wonderful to everybody that works for me." As proof, she cited that while in her employ, O'Neill got to sleep in "Egyptian cotton sheets every night," stay in five-star hotels, fly on private planes and eat caviar.
"It is, like, such an amazing luxury that I get to travel the world and have planes, she doesn't even see what a luxury it is, but she thinks it's owed to her for no reason," added Gaga.
What's more, Gaga said that O'Neill landing the job was "essentially a favor, and Jennifer was majorly unqualified for it." She dinged O'Neill for failing to purchase toiletries for her when she needed them, and then lay out those toiletries and clothing properly in hotel rooms, as well as for failing to help her carry her luggage. The final straw, said Gaga, was when O'Neill insisted in sleeping in one of the two beds on Gaga's jet herself, instead of offering it to the singer's mother, family or friends as other assistants did. Even worse, she also refused to share her pillows.
"I deserve everything I've worked for. I deserve every dollar of it," insisted Gaga. "And she deserves every dollar of her $75,000 that we agreed to. But she does not deserve a penny more."
The singer also claimed that she was going to "give all the money that she wants to my employees that work hard for me now that deserve it," snapping, "I'm not going to give it to [O'Neill] so she can go to [pricey NYC boutique] Intermix and buy herself a new tube top."
Copyright 2013 ABC News Radio