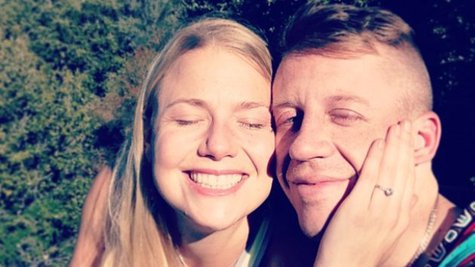 Rapper Macklemore of the duo Macklemore & Ryan Lewis has something else to celebrate besides the fact that "Thrift Shop" has been #1 for two weeks: he's engaged.

Macklemore, born Ben Haggerty , tells People magazine, "I just proposed to my girlfriend and she said yes. We scaled a mountain. I got down on one knee and told her how much I loved her. It was really beautiful." The rapper also posted a photo of the impressive engagement ring on Instagram. " After 7 years... I asked. And she said yes. The love of my life ," he wrote.
Macklemore's fiancee, Tricia Davis , also posted a photo of her ring on Instagram and wrote , " I said YES! In the gorgeous Los Padres mountains overlooking this magnificent earth... @macklemore is my best friend and I can't wait to spend the rest of my life with him. "
Marriage is an institution that Macklemore & Ryan Lewis definitely believe in: the duo first gained major national attention with their song "Same Love," which promotes gay marriage. "It's a personal issue for me," Macklemore tells People. "I grew up with gay uncles and a [gay] godfather in a very gay neighborhood of Seattle."
Copyright 2013 ABC News Radio