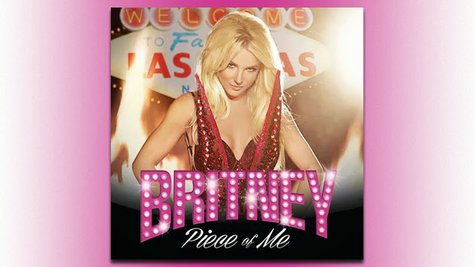 The kickoff of Britney Spears' new Las Vegas residency Britney: Piece Of Me took place Friday night at the Planet Hollywood casino, featuring plenty of costume changes and plenty of hits, though she wasn't around for a couple of them.
The show lasted 83 minutes and included 24 songs, but some were played during the six costume/set changes. For example, a video image of will.i.am performed "Scream and Shout" while Britney was elsewhere, changing clothes. She was also offstage for the vast majority of "Get Naked (I Got A Plan)."
As for the sets, they separated the show into distinct themes. There were a lot of naughty costumes and videos during the "Get Naked" sequence, which also included "Slave 4 U," "Freak Show" and "Do Somethin'." While Brit's dancing at times seemed uninspired or un-energetic, it was at its strongest during a dance-heavy set that included "Me Against The Music," "Hot As Ice," "Piece Of Me" and "Gimme More." Ironic, considering that her performance of that last song during the 2007 MTV VMAs in Vegas drew heavy criticism for its listlessness.
As for the costumes, they ranged from a giant angel getup to sexy black lingerie; during the sets where she was being naughty, she switched from being a blonde to a brunette.
Despite pre-show descriptions of the venue's atmosphere as having a "nightclub" feel, with a dance floor and bottle service, there was no bottle service in sight Friday night, and the "dance floor" was little more than a general admission section.
As for the question of whether or not Britney was singing live, the theater is large and cavernous, so only the folks very close to the stage would have been able to whether her lips were timed to the lyrics. But the fact that none of the massive video screens ever showed a live image of the singer makes one wonder.
The house Friday night was packed, and while we saw Katy Perry , as well as Mario Lopez, who appeared briefly onstage, Britney later tweeted her thanks to Miley Cyrus for attending too. The regular fans who paid for tickets were universally impressed with the show, which is scheduled to run for two years.
Britney also tweeted , "Wow… perfect audience for the 1st #PieceOfMe show! That was AMAZING! I <3 you Vegas!!"
Here's the full set list:
"Work B***h"
"Womanizer"
"3"

SET CHANGE

"Everytime"
"...Baby One More Time"
"Oops...I Did It Again"

SET CHANGE

"Me Against The Music"
"Gimme More"
"Hot As Ice"
"Piece Of Me"

SET CHANGE

"Scream and Shout (On Video Without Britney On Stage)
"Boys"
"Perfume"

SET CHANGE

"Get Naked (I Got A Plan)" – Britney Not On Stage For Most Of "Song"
"Slave 4 U"
"Freak Show"
"Do Somethin'"

SET CHANGE

"Circus"
"I Wanna Go"
"Lucky"

SET CHANGE

"Toxic"
"Stronger"
"(You Drive Me) Crazy"
"'Til The World Ends"
Copyright 2013 ABC News Radio