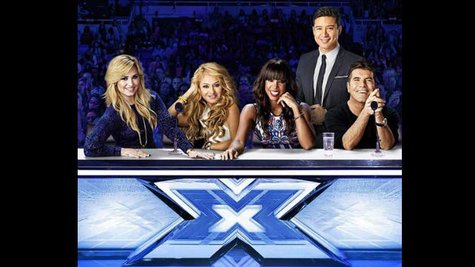 The X Factor set its top four on Thursday night. The two artists who were eliminated during the one-hour results show both belonged to Demi Lovato 's "girls" category: Ellona Santiago and Rion Paige .
Rion battled Carlito Olivero , the last of Paulina Rubio 's "boys," toward the end of the show. She sang Miranda Lambert 's "The House That Built Me," while Carlito performed Usher 's "You Make Me Wanna..." Carlito prevailed in the coaches' vote.
Rion's journey on The X Factor was an inspirational one. The 13-year-old is almost permanently blind in her right eye, and she also suffers from arthrogryposis multiplex congenital, a condition that she said affects her joints and which has caused her hands to curve differently.
The top four is comprised of Carlito, Kelly Rowland 's "Over 25" rocker Jeff Gutt , and Simon Cowell 's groups Restless Road and Alex and Sierra .
Thursday's program began with Simon paying tribute to former South African President Nelson Mandela , who died earlier in the day. Simon said, "He was an incredible man, a selfless man, and we want to send out our respects and best wishes to his family. He's going to be sorely missed."
The show also featured performances by season-two act Emblem3 and girl group Little Mix from the U.K. edition of The X Factor .
The top four will kick off the semifinals next Wednesday night on Fox.
Copyright 2013 ABC News Radio